AWIS Weather Forecast: Expect an Early Bud Break. Time to Prune!
Dear all,
Temperatures and precipitation are predicted to be above average over the coming week (see fig. 1 and 2). That may induce sap flow and the plants might slowly awake from dormancy, depending on the local conditions.
If you haven't prune yet, please check the predicted weather conditions in your county (see below) to assess if you can still delay pruning.
Temperature and Precipitation Forecasts: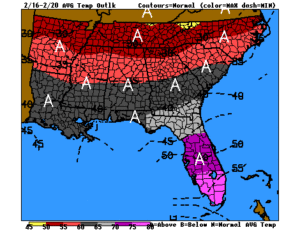 Figure 1: Temperature forecast for the region from 2/16-2/20: Temperature will be above average in the upper 50's for the coming week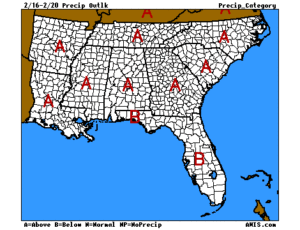 Figure 2: Rain forecast from 2/16-2/20: In most of the Southeast, rain is predicted to be above average for the coming week
Hourly 5-day forecasts by state:
North Carolina:
South Carolina:
Georgia:
Virginia:
Tennessee:
If you have questions, please contact your local extension office or me (mark.hoffmann@ncsu.edu).
As always, I hope this helps.
Thanks,
Mark